Complete Roof Tear Offs and Roof Replacement Services
If you need the roof on your business, warehouse or industrial building removed, Ray Roofing handles complete roof tear off jobs from start to finish in Northeast Ohio. Not sure if your roof needs some repairs or if a total replacement is in order? Ray Roofing offers a free roofing consultation to determine exactly what's needed.
We have expertly trained technicians with the expertise to handle all roofs. It doesn't matter what material your roof is made of– we can handle any and all types. Furthermore, we work in a timely fashion and don't impede day-to-day operations of your business. "Can the owners and employees still occupy the facility while roof work is done?" In most cases, "Yes!"
Ray Roofing has installed new roofs for many businesses, including industrial facilities. From steel mills to food processing plants and then some, Ray Roofing is here to meet the needs of its clients. Roofing systems installed include single ply EPDM, TPO, BUR, PVC, KEE membranes, Fluid Applied Systems and more.
Schedule your free consultation today.
Reasons to Have a Commercial Roof Torn Off
What are some reasons to have your commercial roof torn off? If the existing roof is really old, neglected, falling apart, waterlogged, and/or the metal deck below is rusted, then it's time. If there are more than two roof layers and you want to add another, that's not viable because the weight would be too much– so it's time to have a layer or two torn off. In order to preserve the structural integrity of your building, it might be time for a tear off followed by a new roof.
New roofs often have better energy efficiency, the latest waterproofing technologies, and long-term warranties. They'll also look better, aesthetically.
Finally, a tear off can be the smart thing to do in order to avoid trapping any moisture in between layers. Trapped moisture leads to rot, mold and leaks.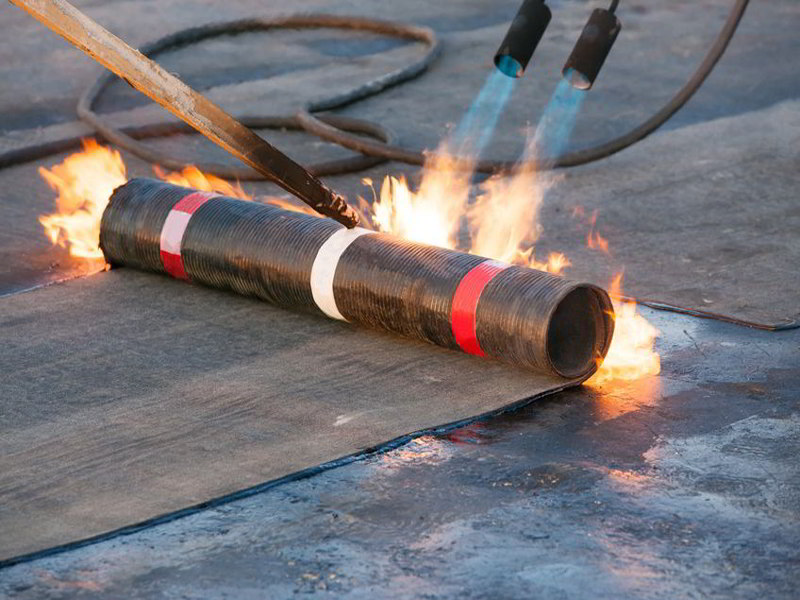 Signs You Need a New Commercial Roof
What are some signs you need a new commercial roof?
If you have water leaking into the building, through the roof, when it rains, then it's time for a new roof. If you've noticed water spots or signs of mold on the ceiling, there could be a problem. Also, if you smell mold at/near the roof, that's not good.
Do you notice blistering/bubbling on the outside of you roof? How about shingle damage? Is there moss growth? Check the roof membrane for bald spots or lifting. If you've got bent, dislodged or damaged flashing, that could allow water in, leading to trouble. Are your downspouts clogged? Is the roof really, really old? These are just a couple reasons you might need a new commercial roof.
The Benefits of a New Commercial Roof
What are some benefits of having Ray Roofing install a new commercial roof in the Northeast Ohio area? Well, you'll improve the safety of your building. You'll also increase your building's storm resistance. Materials and installation techniques of today differ from those in the past– technology and expertise make for more storm-resistant roofs. Water-tight seals, properly fastened materials, and new flashing, joints, and gaskets mean you'll have less to worry about even when storms roll through the area.
Under the new tax code created by the Tax Cuts and Jobs Act of 2017, you don't have to depreciate your roof over 39 years– instead you can benefit from the Section 179 deal regarding accelerated depreciation. So, a new roof can equal improved tax options and incentives for your business.
Finally, in an era when "going green" is popular, a new roof offers increased energy efficiency. The new roof can lead to decreased energy costs for both heating and cooling. Depending on what type of roof you choose, you might be able to call your building "sustainable" or "eco-friendly," and let clients and customers know you care about the environment.
Reasons to Use a Specialized Commercial Roofing Contractor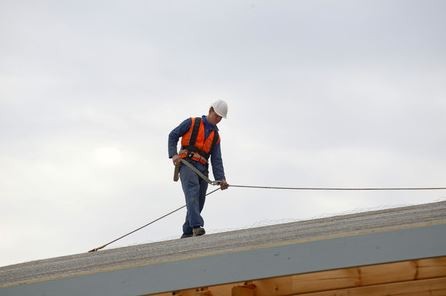 Some facility/building managers choose to do their own roofing repairs and replacements… and then they call Ray Roofing to come fix their mistakes. While "doing it yourself" seems like it can save time and money, ultimately, it's best to use a commercial roofing contractor to get the job done right.
All too often, there are stories of well-intentioned building managers who wanted to handle their own roof repairs, only to discover the job kept getting put on the back burner. What should have taken a week or two "still wasn't done months later." One of the major benefits of hiring a commercial roofing contractor is that a company like Ray Roofing has the necessary manpower to get the job done in a quick and efficient manner. Furthermore, professional roofers have the needed knowledge and tools to do the job well. Ray Roofing technicians are problem solvers who have the kind of experience most roofers don't have– we've worked on a variety of jobs in different locations and environments, and "seen it all." That's a good thing because it means your roof won't bring any surprises.
Conclusion
Ray Roofing has served Northeast Ohio since 1946. As a family-owned roofing contractor, we've handled many commercial and industrial roofing repairs, tear offs, and replacements. Our team can tackle both big and small jobs, and we're certified to install multiple roof systems. Dedicated to safety, our roofers do their best to get the job done without disrupting day-to-day operations. We service Canton, Akron, Cleveland, and Columbus. Schedule your free roofing consultation today– contact us today at 330-452-8109.
Save