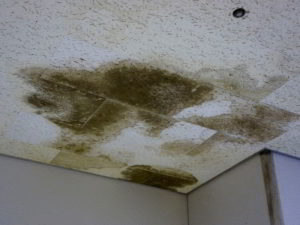 The weather in Northeast Ohio is often quite unpredictable, leading to unpleasant storms that can cause severe damage to roofs, especially older ones.
Fortunately, the industrial roofing experts at Ray Roofing are here to help; if your roof suffers severe damage or has an unrelenting leak, just give us a call and we will send our technicians to rectify the issue. Our leak and repair technicians have the tools, knowledge, and credentials to make nearly any type of repair to all roof types. They will come to your building, find the cause of the water infiltration, and then fix the issue.
If you have a leaking roof or some other sort of industrial roofing emergency, please contact the experts at Ray Roofing today.
---
Chase Leaks
Roof Leak Repair
Are you worried your business has a roof leak? If yes, the specialists at Ray Roofing can provide you with the answers you need.
Ray Roofing has a leak and repair division that specializes in diagnosing leaks in all types of roofing systems. Our technicians are specially trained to diagnose water infiltration, and they have the tools, experience, and expertise to fix all types of leaks. We will chase down your leak, and determine for certain whether it's your roof that is causing water infiltration.
If you would like to learn more about our thorough chase leak process, or if you would like to schedule a FREE consultation regarding your company's roof, please contact us today.
Save