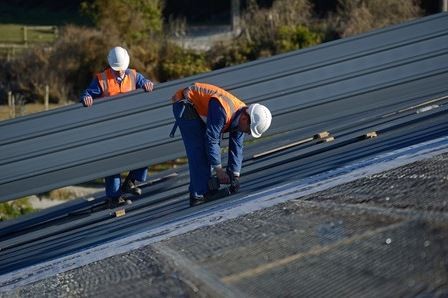 A commercial roof represents a significant investment that protects the building from the elements while also assuring that the interior is able to be reliably cooled or heated. Unfortunately, since roofs are usually out of sight and mind, various problems are not diagnosed until there is a failure. Below is a list of things that could be affecting your commercial roof right now.
Wind and weather damage
Severe weather events like hailstorms or snow and ice storms may damage a roof and cause it to prematurely fail. This damage may not be noticed until months or years afterward if the roof is not periodically inspected.
Wind can also cause problems with roofs. As wind blows over a roof it creates an uplift that, when coupled with air pressure from within the building, can lead to movement and weakening of the roofing material over time. Eventually this weakening may lead to the roof failing.
Flashing and pitch pans
Improperly installed or maintained flashing and pitch pans are one of the most common causes of roof leaks. Pitch pans or flashing that is not installed correctly is certain to leak over time. Flashing and pitch pans do need to be inspected and maintained periodically. These components are susceptible to regular contraction and expansion due to weather and can crack, tear, or come loose as a result.
Standing water
Standing water may occur due to damage or wear on a roof, improper installation, or clogged drains. Any low areas on the roof are likely to collect standing water throughout the year, and during cold weather this water may freeze. Standing water or ice build-ups on the roof can result in further damage and leaks.
Mechanical damage and penetrations
Commercial roofs that are perfectly installed may still be affected by mechanical damage or penetrations. Damage may occur from equipment being moved on the roof or even from foot traffic. Penetrations often occur as new equipment is added to the roof after it was installed.
Ray Roofing is a full-service commercial and industrial roofing contractor serving the northeast Ohio region. We are ready to help whether your commercial roof needs minor repairs or a complete replacement. Contact us today at 330-452-8109 to learn more or to request a quote.