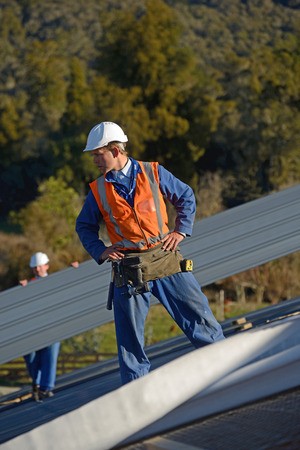 Do you need to have a new commercial roof installed? There are some businesses that will try to simply stick a new roofing layer on top of their existing one. In some cases, this might work. Nevertheless, you'll need to have a complete commercial roof tear-off done before you can have your new roof installed. Here are a few things that you'll want to keep in mind while you're going through this process.
Hire the right company to do your commercial roof tear-off.
Completing a commercial roof tear-off is a tall task. It requires a certain level of experience and expertise since most commercial roofs are very large. Therefore, you should pick the right commercial roofing company for the job. Make sure that they know what they're doing when it comes to roof tear-offs and that they come highly recommended by other businesses in your area.
Make sure the company removes your entire roof and inspects it thoroughly.
One of the reasons why it's smart to do a commercial roof tear-off as opposed to just adding another layer of roofing to your roof is because it gives a roofing company the chance to check out the condition of everything under your roof. They'll rip your roof off right down to its lowest point before building it back up. They'll also keep a close eye out for water damage, rust, mold, and more and make sure these things don't continue to present problems for you.
Choose the right type of roof for your commercial building once your roof tear-off is finished.
Once your commercial roof tear-off is done, you'll be able to install whatever kind of commercial roofing you want on your building. Some of the most popular roofing systems include single-ply EPDM, TPO, BUR, PVC, and more. Your commercial roofer will be able to guide you as you consider your different commercial roofing options. No matter which one you choose, your roofer will waterproof your roof and ensure you don't have to worry about replacing it again for a long time.
Ray Roofing Supply specializes in carrying out complete roof tear-offs and can help you replace your current commercial roof. Call us at 330-452-8109 today to get started.